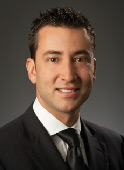 Christopher S. Hill combines his business experience and advisory skills with his commitment to provide exemplary service as a life insurance advisor at Parq Advisors Insurance and Estate Planning. Client care and attention are paramount to Christopher. To that end, his estate planning strategies combine essential insurance services and long-term strategic planning that serve both to build on his clients' wealth as well as preserve that wealth for future generations.
Prior to joining Parq Advisors, Christopher was a life insurance advisor at Gilbert Krupin Insurance and Estate Planning, where he perfected the art of detailed, individualized attention to clients and their families.
Christopher focused the early part of his career on developing and running his family's Beverly Hills-based business. This experience afforded him opportunities to forge long-standing relationships with community and business leaders. Through years of working closely with studio heads, principals of multi-national real estate and development and management corporations, and entertainment and sports figures, Christopher has established a reputation for combining a high level of service and an understanding of his clients' needs with a personal and professional touch. This reputation has served him well as many of his clients consider him an advisor and a friend.
As an insurance professional, Christopher remains steadfast in his loyalty and service to his clients and counts integrity and trust as his two greatest attributes. He fits seamlessly into the Parq Advisors client-centered approach to providing insurance products.
Christopher is a graduate and supporter of Notre Dame High School and received his Bachelor of Arts in Business Administration from Loyola Marymount University.
He spends his free time playing sports, enjoying time with his family and serving his community.