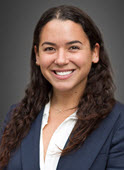 A native to Los Angeles, Maxie joined Parq Advisors in 2015 with a focus on Life Insurance and Estate Planning for clients in the entertainment, sports and high net-worth space.
Prior to joining the firm in the Beverly Hills office, Maxie led a sales team at Chicago-based start-up, Trunk Club, contributing to their success and eventual acquisition by the retail giant, Nordstrom. Prior to Trunk Club, Maxie was an editor for Modern Luxury Magazine as well as Refinery29 and was a founding member of the Soho House Chicago.
Maxie is a member of the Jewish Federation and participates in the Professional Women's Group. With an unwavering love for animals, Maxie volunteers for Wags For Walks Dog Rescue in her spare time.
Born in Toronto and raised in Los Angeles, Maxie graduated from the University of Madison-Wisconsin with a degree in Literature and currently resides in Santa Monica.