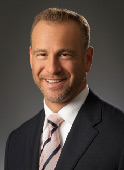 Justin R. Siegel is a founding member and co-managing partner at Parq Advisors and specializes in life insurance strategies for ultra-affluent families across the business, sports and entertainment spectrums.
Justin began his career as a professional baseball player, first with the Texas Rangers organization and later with the Boston Red Sox organization as a Rule V draft choice. After retiring from baseball following multiple arm surgeries, Justin became a consultant to young players just exiting professional baseball, helping them develop long-term financial and vocational strategies.
Before establishing himself in the insurance industry, Justin successfully brokered deals in the online music entertainment world as the Director of Business Development and Booking Agent for ARTISTdirect, Inc. Through conceptualizing, negotiating and executing strategic partnership opportunities, Justin contributed to the bottom line, helping to elevate the company from the private sector to the public markets.
Highly regarded in the life insurance industry, Justin conducts insurance planning seminars to many of the top business managers, CPA's, and financial advisors throughout the country. In 2013, Justin was named to the M Financial Program Development Committee and has been recognized by many insurance carriers for his service excellence with awards including Centurion, Summit, Silver Eagle, Order of Excalibur, Top of the Table, Court of the Table, and Honors Club.
Currently, Justin sits on the executive board of the Water Buffalo Club, a non-profit organization comprised of 75 industry-leading executives from Beverly Hills, Century City, and Los Angeles areas. The Water Buffalo Club provides over 150 children's charities with tangible items designed to assist each organization with its strategic growth, thus increasing their effectiveness to the children they serve.
In addition, Justin sits on the Ronald Reagan Presidential Foundation Advisory Council of Beverly Hills.
Justin attended North Carolina State University and continued his education at California State University, Long Beach, where he was a member of the All Athletic Dean's List. He married his high school sweetheart, Leigh Anne, with whom he has three daughters, Daryn, Sydney, and Carsyn. He and his family reside in Los Angeles.